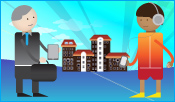 Posted on July 16, 2017 by Karen in Uncategorized.

Free lancer's disease Part 1 – Where did all the time go?  Ok so you've bravely taken the plunge by leaving your secure, well-paid corporate, private or public sector job that you ended up hating now feeling ecstatic and somewhat smug as you enter the earthly delights of the free lance world. There's lots to be […]

No Comments. Continue Reading...