Christmas and New Year coaching and counselling book list and you tube clips too..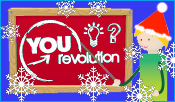 [content_block id=2008] Merry Christmas from You Revolution!!!
If you get this bored of stuffing your face with mince pies and turkey this Christmas or New Year and you need some inspiration or something to help you to feel less overwhelmed, why not take a look at our top 25 reads for 2016!
1. Screw Work Let's Play by John Williams
2. Free Range Humans by Marianne Cantwell
3. Stop Talking Start Doing by Shaa Wasmund
4. What's Stopping You?: Why Smart People Don't Always Reach Their Potential and How You Can by Robert Kelsey
5. Mindfulness: Finding Peace in a Frantic World by Professor Mark Williams, University of Oxford and Danny Penman
6. The Artist's way by Julia Cameron
7. Ask and it is Given: How to Manifest the Law of Attraction  by Esther and Jerry Hicks
8. The Happiness Advantage by Shawn Achor
9. How to Save an Hour Every Day by Michael Heppell
10. Overcoming procrastination by Dr Windy Dryden
11. Subpersonalties by Dr John Rowan
12. Meeting the shadow by Connie Zweig
13. The Slight Edge by Jeff Olson
14. It's not how good you are it's how good you want to be by Paul Arden
15. Freedom from your inner critic by Jay Earley and Bonnie Weiss
16. Frazzled by Ruby Wax
17. Sane New world by Ruby Wax
18. The Chimp Paradox by Stephen Peters
19. The six pillars of self esteem by Nathaniel Branden
20. The 7 habits of highly effective people by Stephen Covey
21. Thrive by Arianna Huffington
22. The Sleep Revolution by Arianna Huffington
23. First things first by Stephen Covey
24. Emotional Intelligence by Daniel Goleman
25. Man's search for meaning by Viktor Frankl
You tube clips:
Obvious to you amazing to others by Derek Sivers founder of CD Baby https://www.youtube.com/watch?v=xcmI5SSQLmE
Mindfulness the three minute breathing space https://www.youtube.com/watch?v=aTCXcxLjNcA
Bob Proctor make a paradigm shift: https://www.youtube.com/watch?v=t_mJJrK37GM
The School of Life series by Alain de Botton https://www.youtube.com/watch?v=gaii2uvHkpI
Happy reading and watching!!!
Over to you
If after reading this blog you realise that you need more support than a few books or you tube clips, on line coaching, counselling or a personal development or mindfulness course may help you.
So, if you need a bit of extra support and encouragement and a few on line coaching or counselling sessions why not contact us at You Revolution to arrange an appointment with one of our highly skilled Therapists and Coaches for a short free introductory chat on 07950 751352 or by emailing us on info@www.you-revolution.com.
[content_block id=1666]