Free lancer's disease Part 1 – Where did all the time go?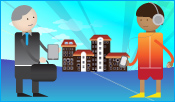 [content_block id=2008]

Free lancer's disease Part 1 – Where did all the time go?

 
Ok so you've bravely taken the plunge by leaving your secure, well-paid corporate, private or public sector job that you ended up hating now feeling ecstatic and somewhat smug as you enter the earthly delights of the free lance world.
There's lots to be proud of having finally escaped from the corporate cage and years of mundane board meetings and office politics, all that delicious freedom and opportunity to be more spontaneous, the ability to choose your work hours, outfit and clients, more autonomy and less commuting to name just a few… What's more, as you are working from home, you don't even need to comb your hair, can remain make up free and there's no need to speak to those you have to, only to those cool dynamic arty types that you want to. Sounds like bliss doesn't it until of course a few weeks later you encounter your first real ugly head 'Free Lancer's disease'.   
What's that you may ask yourself especially if you are still experiencing the honeymoon chapter of the free lance playground. Sorry folks but I'm just about to burst your bubbleL 
It goes something like this:
You get up bright and early, plug in your lap top, often located in a room close to your kitchen at home, then quickly glance at your to do list and enthusiastically begin. As it's a good length, you start by completing lots of easy stuff like emailing invoices, booking in client appointments, backing up your computer, fixing your printer, answering client phone calls and completing your monthly accounts feeling rather satisfied with yourself that you are ticking off lots of tasks and convincing yourself that you are busy and that you have worked really hard. Then, before you know it, the clock reaches 11.30am, tempted by the nearby cafetiere you grab a coffee, then you feed the cat or dog, empty the dishwasher, do some housework and call your friend for an 'alleged' short chat. Now it's almost 1pm and time for a well earned enticing lunch. Feeling sleeping and somewhat sluggish afterwards, you take a short power nap or do some meditation. It's now the middle of afternoon and only a few hours remain before clocking off so you continue to engage in further yummy distractions such as checking twitter, facebook and the bbc news. You then begin bleeting to your partner or family that you are feeling overwhelmed because you are only a quarter of the way through your to do list even though you have worked really hard. By now, the last thing you want to attempt mid afternoon is something tricky and important like your business marketing strategy or a google ad campaign so your begin half heartidly and convince yourself as you sign off that it's fine to postpone these tasks afterall there's always tomorrow or next week…. 
Sound familiar?      
What can you do about it?
Stop kidding yourself and get honest about what's going on, for starters. You've probably fallen victim to the procrastination or avoidance trap. Naturally, the reason will be different for each person and remember you're not alone in this dilemma…
Take control of your negative internal chatter box alias "inner critic". Just because you're not ticking off every task on your to do list it doesn't mean to say you are failure and you don't have to return to the corporate cage just yet phew you sigh with relief…..  
I am only just recovering from the free lance disease and wanted to share with the You Revolution community a few strategies that helped me to overcome this very common predicament: 
I worked with a life coach where I learnt how to overcome procrastinating and to identify the blocks and distractions that were holding me back

 

I read a superb book 'How to Save an Hour Every Day' by Michael Heppell in which I gained some excellent time management skills

 

Following the advice my delightful partner, Liam, who is, get this, a methodical, non tortured artist, I developed a project plan where I identified the time scale (hours) for all the tasks and for the longer ones, adopted a dripping tap approach. Afterall, it  worked for Einstein, Alfred Wainwright and  J K Rowling
I embraced Picasso's quote "Inspiration exists, but it has to find you working."
I delegated admin tasks to virtual PAs, yes I had to pay £10 to £12 per hour however it freed me up to focus on the more strategic marketing side of my business and most importantly gain more income and more new clients
 Over to you
It all sounds rather simple doesn't it?
If after reading this blog you are still struggling to overcome proscrastinating, finding it difficult to delegate, and feeling overwhelmed with distractions don't panic.   
On line coaching or a personal development or mindfulness course can help you. 
So, if you need a bit of extra support and encouragement and a few on line coaching sessions why not contact us at You Revolution to arrange an appointment with one of our highly skilled coaches for a short free introductory chat on 07950 751352 or by emailing us on info@www.you-revolution.com.  
I'll end with a quote taken from one of my favourite reads: 'Stop talking start doing!!'
[content_block id=1666]