Tip three for people with hectic lifestyles who want to make positive life or career changes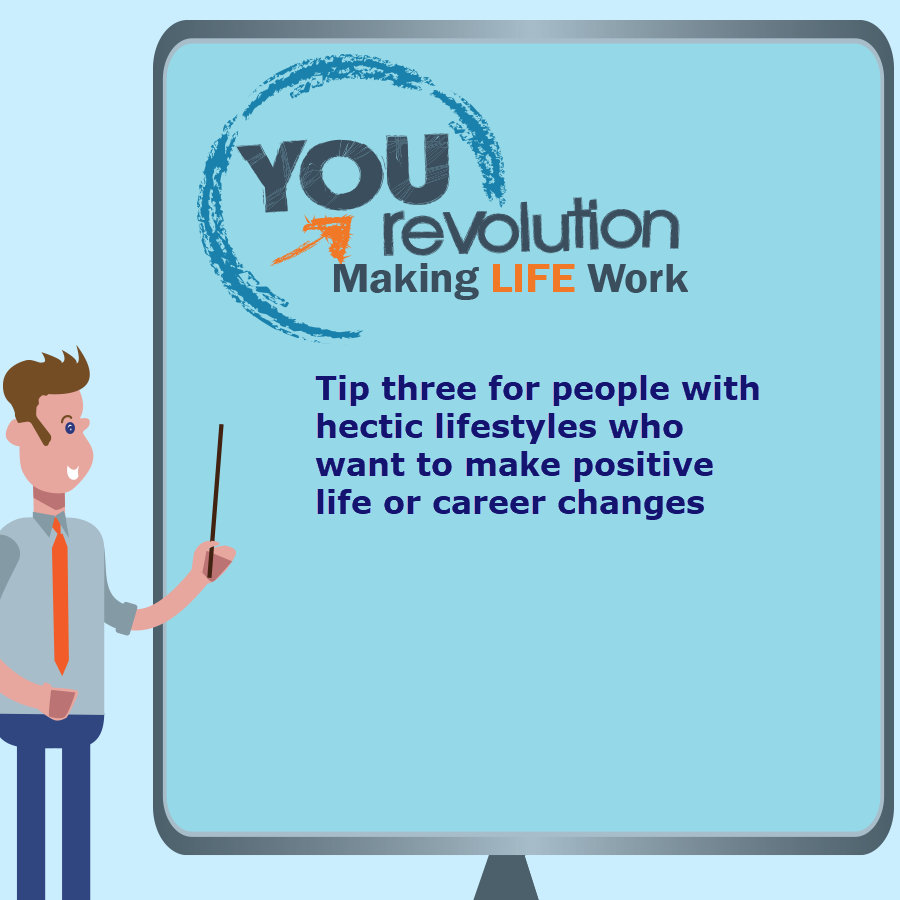 [content_block id=2008]
Do you have a hectic lifestyle and want to make positive life changes but precious little time to make them?
Over the next few months, I'll be sharing with you the mindfulness, self help and personal development techniques and tips that helped me to:
• escape the corporate cage, that is, my well-paid secure job and hectic lifestyle in London
• move from  London to live in the idyllic countryside and do my dream job as a successful Psychotherapist, Coach and Mindfulness Teacher helping 1000s of clients at my Liverpool Street and Harley Street Practices and  nowadays at my online, Bristol and Somerset Practices sometimes advising film Directors, such as Mike Leigh, on the authenticity of film narratives.
Though I am now doing my dream job, living in a delightful Somerset village and have many tools at my disposal, life is occasionally still tough so I'll also send  you some tips to help you remain motivated, and focused when you are feeling stuck, overwhelmed, lost or you are falling victim to "l'm too busy and don't have enough time" and procrastination trap.
For those of you who didn't get the opportunity to read tips one and two of my blog for people with hectic lifestyles who want to make positive life or career changes see:
Tip One: www.you-revolution.com/tips-for-people-with-hectic-lifestyles-who-want-to-make-positive-life-or-career-changes/
Tip Two: www.you-revolution.com/tip-two-for-people-with-hectic-lifestyles-who-want-to-make-positive-life-or-career-changes/
Tip for week Three
Sometimes, especially on Monday mornings, I'm aware that I wake up greeted by the thought of my to do list the size of the London Square Mile. Nowadays though, instead of allowing myself to become overwhelmed and depleted by this, I grab my journal, located on my bedside table, and begin my morning pages.
What are morning pages?
Morning Pages are a self development tool generally recommended for artists, musicians and other creative people when they supposedly experience creative blocks. It was first developed by Julia Cameron in her book the Artist's Way. Having said that, it can also be helpful for those of us in other professions too, I have found this technique beneficial in both my corporate jobs and in my work as a Psychotherapist and Self Development Coach.
Is there a recommended structure for morning pages?
A general rule of thumb is to write down, first thing in a morning, the stream of thoughts and feelings that pop up in your mind in that moment. Some weeks this takes up one page of A4 paper or others three or more.
Automatic Negative Thoughts examples:
How am I possibly gonna get through today with all the meetings I need to attend
I'm exhausted and don't want to get out of bed as I can't face the day ahead
I hope some new business comes in today
Oh no I forgot to get some cat food yesterday
It's the deadline for my tv licence payment today when can I possibly fit this in my busy schedule
etc etc
What's great about morning pages, for me, is that they provide an ideal opportunity for longhand, free style writing and for you to offload your thoughts privately on paper rather than to a friend or to a family member. Put simply, anything goes as you don't need to censor your words or to ensure that your writing is grammatically correct as no one else will see your words only you.
What are the benefits of morning pages?
•A clearer mind
•Better ideas
•Less stress and anxiety
•They help to declutter your mind and to tackle negative thinking patterns
•They can support you to turn down the volume on your inner critic
•They can enhance creativity
•They provide an opportunity to slow down
Most significantly, there is no wrong way to do morning pages.
[content_block id=1666]