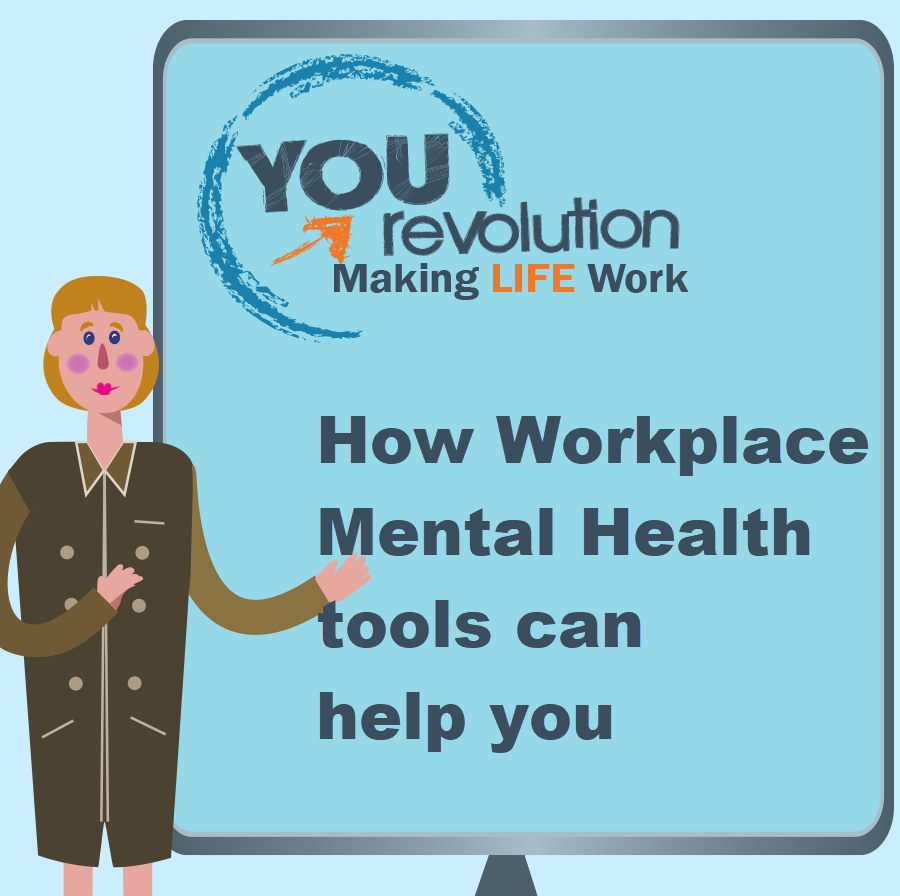 Workplace Mental Health 
Does any of this sound like you?
Instead of feeling demotivated you want to feel more productive, passionate and enthusiastic about your work and home life?
You want to feel less socially anxious or lonely and develop more meaningful connections with family, friends and work colleagues? 
You'd like to feel less overwhelmed, procrastinate less and become more decisive?    
Or perhaps:
Work takes up most of your life and you constantly feel like you are chasing your tail
The joy has gone out of your life and you feel like you have lost your spark
You can't remember the last time you took a day off
You often feel stressed before a video call and then notice you feel tired, exhausted and irritated because of technical issues (ie: zoom fatigue)
You feel like a hamster trapped in a wheel going round and round
You struggle setting boundaries and rarely take a lunch hour
Days are so crammed full that you literally dread even starting them
There is so much to do that you can't even shut your mind down when your laying in your comfy bed
Often, you feel guilty that you're not there for your kids or your partner as much as you'd like to be
You wish you didn't feel too tired or busy to enjoy your social life
Well the good news is you are not alone in this, we all feel at least one of these things sometimes….
Covid and Workplace Mental health difficulties 
You know it's totally understandable many of us are struggling to adjust to the lifestyle changes imposed as a result of the unprecedented, covid pandemic such as lockdown and social isolation.
Let's not underestimate Covid, it's probably the most significant psychological transition we've needed to adapt to since the World Wars and Industrial Revolution.
We do not fully know yet what the mental health impacts of Covid-19 will be. There are many factors to consider including the impact of the lockdown and ongoing restrictions such as social distancing and self-isolation. Some people will be fearful about contracting the virus, others will be anxious about family and friends. Many will have suffered bereavements during this time, often without the chance to say goodbye or attend funerals.
The most common Workplace Mental Health issues highlighted:
Fears about job security, returning to the workplace (including using public transport for commuting) and financial concerns. Some employees are working longer or more irregular hours and many are combining work with home-schooling and other family responsibilities, leading to a detrimental work-life balance.
Covid Workplace Mental Health and wellbeing research findings:
Early research into the health impacts of lockdown include findings of fatigue, musculoskeletal conditions, an unhealthy work life balance, reduced exercise and increased alcohol consumption. In terms of mental health specifically, employees have been reporting reduced motivation, loneliness, loss of purpose, anxiety and isolation.
Evidence from previous quarantine situations, prior to the current pandemic, suggests that there are long lasting effects on mental health. These symptoms ranged from irritability and anger to depression and post-traumatic stress symptoms.
Evidence based Workplace Mental Health tools such as:
Positive psychology, mindfulness and emotional intelligence tools and strategies can really help you to overcome stress and burn out. 
With the added bonus of helping you to develop new/improved business skills too including:
Improved work performance and targets
Wiser Decision making
Resilience
Mental Focus
Enhanced Communication and Social skills
Creativity and Innovation
Confidence
Empathy and compassion
General well-being
Ability to perform better under pressure
Over the next few months, I'll be showing you how to become more productive in the workplace whilst simultaneously making more time for things that make your heart sing like hobbies, socialising, gaming and running.
With the added takeways of feeling more motivated, resilient and energetic at work.
So when you return to your virtual workplace or your office on Monday mornings you'll begin to feel more like you are thriving rather than surviving in the highly unpredictive, uncertain Covid semi lockdown situation we currently find ourselves in.
But before I launch into all these tools and strategies let me share something with you:.
Last week, I was having a follow up coaching session with a previous client I had worked with prior to covid lockdown (let's call her Sophie, not her real name, to protect her identity).
Initially, Sophie a former high flying Solicitor in a prestigious Law firm had been wanting to change career for a while as she felt demotivated, burned out and alone in her "toxic, hierarchial working environment".
Paradoxically, she felt stuck and frightened to leave to venture into the freelance Startup world because her "old school" Law Firm had provided her with a regular monthly salary and sense of security for many years  
Sophie wanted to engage in a career with more autonomy and one more aligned to her key values of creativity, curiosity, community and environmentalism. 
When I asked: "Are you afraid of entering the Volatile Uncertain Complex Ambiguous (VUCA) workplace because you belief your skills are outdated?"
Her reply was: "Yes that's exactly it I'm fearful that my workplace skills are obsolete."
Do you know what was holding her back?
Sophie was terrified of pushing herself outside of her comfort zone of certainty and old style pre VUCA leadership style practices.
Working at the law firm for so long, she had also adopted unhealthy beliefs such as: 
Not knowing means I'm vulnerable or I can get cheated
Challenging those more senior than me is not an option as they are a subject matter experts (SMEs) and know everything
If I suggest creative or innovative ideas they will be rejected, so I'll just do as I'm told and people please instead  
Once we had examined all the negative thinking patterns that had been holding her back and I had introduced to new positive psychology and mindfulness concepts, Sophie eventually left her Solicitor role and last week she just wanted to check in to celebrate all her successes in her new freelance playground.
Now you may be wondering so how is Sophie's case relevant to me?
I'm not necessarily suggesting that you leave your job and embark on a new career.
What I am saying though, is that on top of the tricky VUCA workplace we all currently need to navigate, you have the added layer of needing to adjust to a second significant psychological transition "the covid workplace."  
Like Sophie, I want to help you to tackle any negative beliefs that may be holding you back from thriving rather than surviving in your current virtual workplace or office:
so that you can navigate your virtual workplace or office more effectively in order to enjoy a happier, fun life with more freedom and spare time.
So, what's the cost of leading a hectic lifestyle to our health and well-being without mindfulness, positive psychology and emotional intelligence strategies?
It can be exciting and thrilling pushing ourselves to and often beyond the limits of how much we are capable of. That said, doing too much too quickly can be exhausting, uncalled for, and potentially dangerous, for example, phone calls whilst driving.
In our relentless overloaded world, we often feel depleted and more tired when we get up in the morning than when we go to bed. Our productivity levels and the quality of our work depreciates with speed. The quicker we approach tasks the more likely we are inclined to make errors. When we feel up and high, we ride our hectic life like a high performing surfer in the flow of a great wave, but when we're down often we wipe out, burn ourselves out and can't seem to overcome exhaustion. Most importantly though this has long lasting and detrimental consequences for our health and well being such as high blood pressure, fragile immune systems and chronic fatigue syndrome.
What can you do about it?
Over the next few months, I'll be sharing with you the mindfulness, emotional intelligence self help and personal development techniques and tools that helped my clients to thrive in the workplace and their personal life and have inspired me to:
fulfil my dream of escaping the corporate cage, that is, my well-paid secure job and hectic lifestyle in London
move from London to live in the idylic countryside and do my dream job as a successful Psychotherapist, Coach and Mindfulness Teacher helping 1000s of clients at my Liverpool Street and Harley Street Practices and nowadays at my online, Bristol and Somerset Practices sometimes advising film Directors, such as Mike Leigh, on the authenticity of film narratives.
Though I am now doing my dream job, living in a delightful Somerset village and have many tools at my disposal, life is occasionally still tough, especially during the winter covid lockdown, so I'll also send you some tips to help you remain motivated, and focused when you are feeling stuck, overwhelmed, lost or you are falling victim to "l'm too busy and don't have enough time" and procrastination trap.
These emotional intelligence and mindfulness tools have also helped:
Many other professionals, like you, Jeff Weiner, CEO of LinkedIn, big corporate companies  such as the Bank of England, Google and celebrities such as: Paul McCartney, Oprah Winfrey, Ruby Wax, Steve Jobs, Arianna Huffington and even Olympic Gold medallists ….
Watch out for Tip One in the next few weeks!!
[content_block id=1666 slug=test]